Zoho's 40+ helps with your sales and marketing, support and collaboration, finance and recruitment processes - letting you focus on your business.
These are the Zoho One most used applications:
For more information about the 10 most useful applications of Zoho One, check out this video
As Zoho One experts, we can provide the following services: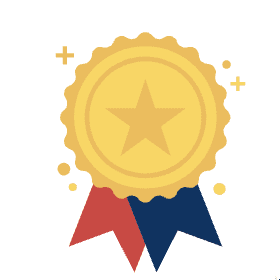 We're certified by Zoho!
In addition to our experience with Zoho, we have an official accreditation that guarantees our knowledge.
Here is a brief description of the 40+ applications included in Zoho One:
Zoho CRM

is used to manage the sales process and client communications. It is one of the most important apps to use in a business.


SalesInbox

is an email client for sales teams that organizes the emails based on the information in the CRM


Bigin

is a CRM oriented to small business. It's much more simple to use than Zoho CRM.


Bookings

is an online scheduler app that allows you to create a calendar that your clients can use to book appointments with you.



Marketing automation

is a platform that allows you to manage any marketing activities across multiple channels.


Campaigns

is used to create email marketing campaigns.


Social

manages all your social media in one place.


Survey

can be used to create surveys that you can send to the contacts. Then you can see reports and analytics about the data collected.


Forms

is a form builder app used to create forms.


Zoho Sites

is a website builder like Squarspace or Wix, that let's you create and host your own website. It is possible to set up a blog here.


Pagesense

is a platform that tracks user behavior on your website, so you can see how they interact with your different pages.


SalesIQ

is another app that you can add to the website, so you can chat with the visitors, as well as see visitor information, like where they are from and how much time they spent on the website.


Backstage

helps you to organize all event activities, create a landing page for the event, as well as set up and sell tickets.



Zoho Desk

is used to centralize all support related communications between the employees and the customers




Assist

, used to

do remote support.


Lens

is similar to Zoho Assist, but the main difference is that it's focused on support equipment instead of computers.



Zoho Mail

is similar to Gmail or Outlook.


Cliq

is a chat app similar to Slack.



Projects

is a project management app that can track tasks, timesheets, milestones and more.


Sprints

is another project management tool, but it uses the 'agile' methodology, normally used for software development.


Zoho Connect

is a private social network for the company, where all the users can share information, pictures, videos and more.


Meeting

is an app similar to Zoom, that you can use to have virtual meetings.


WorkDrive

is a cloud storage solution, like Google Drive or Dropbox.


Learn

is a platform that lets you create articles, classes and courses that you can use to train your employees.




TeamInbox

is an email application where you can set up a company email and share it with multiple users, so all of them have access to all the emails in that inbox.



Writer

is similar to Microsoft Word.


Zoho Sheet

is like Microsoft Excel.




Zoho Show

can be compared with Microsoft PowerPoint.




Sign

a

llows you to send documents that require an electronic signature.


Notebook

is a note taking app where you can add text, pictures and voice to your notes, and share them for collaboration.




Zoho Vault

is a password manager app, where is possible to store passwords and sensitive information.



Zoho Books

is

an accounting software similar to Quickbooks.


Zoho Invoice

is similar to Books, but has less capabilities.


Zoho Expense

it is used to

report expenses, track millage, manage travel itineraries, and get reimbursements.


Checkout

is used to process payments online.



Zoho Subscriptions

is used to create and manage recurring bills and subscriptions.




Inventory

is a stock management app that can be used to control the inventory, and manage and track the shipping status of the orders.



Zoho People

is a human resource app where you can manage all your employees.




Recruit

is

an applicant tracking system that will help you with your hiring process.



Zoho Creator

is a development platform that you can use to create apps for your business.




Analytics

is used to add and analyze different data sources.




Zoho Flow

is an app used to

create workflows to automate business processes.